The New York City Marathon. It's a runner's dream. The streets of all five boroughs are shut down for the biggest marathon and human parade imaginable. This November, two local runners will be taking on the famous race to Central Park - but they're making this year's marathon about something bigger than just themselves. Gretchen Ardizzone and Holly Tocknell are running to support Let Me Run.
Let Me Run is a 501(c)(3) nonprofit wellness program for boys.  The program inspires boys through the power of running to be courageous enough to be themselves, to build healthy relationships, and 
to live an active lifestyle.  To learn more, visit the Let Me Run homepage here.  Every step of the way, these two runners are fundraising for Let Me Run and raising awareness of this incredibly inclusive, positive program. 
Gretchen is running her fifth marathon.  Holly is excitedly running her first.  Here are their stories: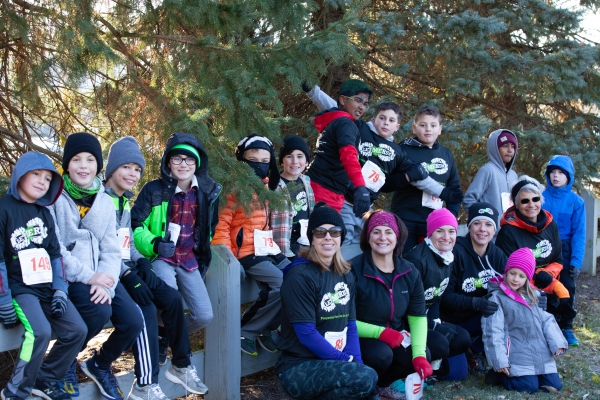 First time marathoner to take on the 2019 TCS New York City Marathon
Two-time Let Me Run coach and LMR parent, Holly Tocknell, is lacing up to take on her first-ever marathon in New York City. Over the past two years, Holly has been involved with Let Me Run and has witnessed first-hand the positive impact the program has had on her team, son, and family.
Holly first got involved with Let Me Run because "the boy code has impacted our family. We have two boys. My goal as a mom is to raise kind human beings that are thoughtful, kind, loving and considerate. I do not want them to feel that they cannot express their emotions or be afraid to show a weak side," she says. 
During her time with Let Me Run, Holly has seen tremendous transformations in her son and herself. She has watched her son develop into a confident runner and teammate and has come to discover that she "can be a leader and speak up in a group setting."
As someone who has typically prefered to be behind the scenes, she is stepping outside of her box and trying something brand new. When given the opportunity to run in the 2019 TCS New York City Marathon, she couldn't pass it up. Of course, there is the gratification of taking the last step across the finish line, but for Holly it is so much more than that. "I think this experience is meaningful to me because I will be running for a greater purpose. It's great to go run a marathon, but it is so much more meaningful to me to run for something so much bigger than myself. I will be running for the boys on our team, but also for all boys that need a positive impact in their lives. The LMR program can provide that positive impact," she explains.
You can track Holly's progress during the marathon come November. Until then, help her meet her $5,000 fundraising goal for Let Me Run by donating on her Crowdrise page.
Mom fulfills dream while supporting her son
This November Let Me Run supporter, mother, and 4-time marathoner, Gretchen Ardizzone, will take on her first ever TCS New York City Marathon as a LMR charity runner. "It has been a dream of mine for years to run the NYC marathon. I'm one of those people who will get up on Sunday morning and watch it on tv from beginning to end like it's the Super Bowl," she says.
Gretchen discovered her love of running after her father experienced a massive heart attack 10 years ago. Since then, her eyes have been opened to the importance of living a healthier lifestyle and that "running is a gift that should never be taken for granted." Her personal life motto, "training for the marathon of life," has allowed her to remember that life is filled with struggles and challenges, but you have to just keep moving forward to overcome them.
Gretchen found out about the Let Me Run program from a friend and LMR coach. He spoke with her about the impact the program made not only on his sons but also the other boys involved.
"As a mother, I watched my son experience many of the 'traditional' societal expectations in his younger years. He was supposed to be outgoing, play sports, be social, etc. I had been blessed with the most amazing child, but society wanted to define him. I only wish Let Me Run could've been a part of his life during that pivotal time," she expressed. Gretchen hopes that by being a charity runner she will be able to help increase awareness for the program so other parents know that this program exists to support their sons.
Along with her goal of crossing the 2019 TCS New York City Marathon finish line on November 3rd, Gretchen also hopes to raise $4,000 for Let Me Run. "Reaching my fundraising goal will be the most gratifying feeling knowing that I made a difference. I will have not only raised funds to support LMR, but I will have hopefully educated a whole new audience about the organization and its benefits," she explains. You can help Gretchen reach her fundraising goal by donating on her Crowdrise page today!